I just got this breaking news from yahoo another form of natural calamity,
a strong earthquake brought huge damages and casualties in PADANG, Indonesia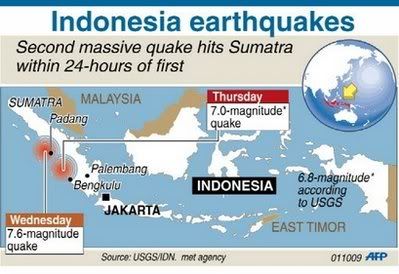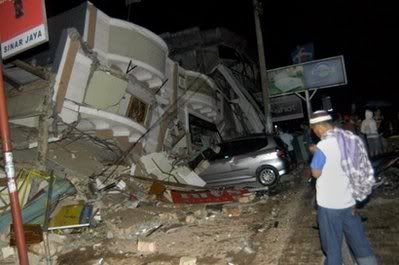 see more Indonesia Earthquake Pictures
Here's the article:

PADANG, Indonesia – A powerful earthquake that struck western Indonesia trapped thousands of people under collapsed buildings — including hospitals, a hotel and a classroom, officials said. At least 200 bodies were found in one coastal city and the toll was expected to be far higher.
The temblor Wednesday started fires, severed roads and cut off power and communications to Padang, a coastal city of 900,000 on Sumatra island. Thousands fled in panic, fearing a tsunami. It was felt hundreds of miles (kilometers) away in Malaysia and Singapore, causing buildings there to sway.
The undersea quake of 7.6 magnitude was followed by a powerful, shallow inland earthquake on Thursday morning with a preliminary magnitude of 6.8, the U.S. Geological Survey said. It hit about 150 miles (240 kilometers) south of Padang at a depth of just under 20 miles (24 kilometers).
Read the full story
Indonesia Earthquake 7.0 Magnitude
Read also this article
Strong quake triggers tsunami in Samoa