Mayon Volcano Latest Update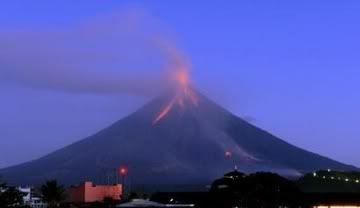 PHIVOLCS still warned the people about the continuous eruptions of Mayon Volcano, although these few days the Mayon Volcano seems to be quiet but still according to Philippine government's chief volcanologist people should not be complacent about it.
Read the full story:
http://ph.news.yahoo.com/afp/20091226/tap-philippines-volcano-5cc1ef8.html
Mayon Volcano alert level raised to 4; eruption seen within days
State volcanologists on Sunday afternoon raised the alert status of Mayon Volcano in Albay province, Bicol to 4 after noting rumbling sounds in Sto. Domingo town, saying a major eruption is possible within days.
"This is to notify the public that the Philippine Institute of Volcanology and Seismology (Phivolcs) is now raising the alert status of Mayon Volcano from alert level 3 to alert level 4. This means that a hazardous explosive eruption is possible within days," the agency said on its Web site at 2:30 p.m.
To ensure public safety, Phivolcs said it was recommending an extended danger zone from the summit of 8 kilometers at the southern sector and 7 kilometers at the northern sector.
"Areas just outside of this extended danger zone should prepare for evacuation in the event explosive eruptions intensify," it added.
Read More about the article
Mayon Volcano alert level raised to 4; eruption seen within days
Source:http://ph.news.yahoo.com/gma/20091220/tph-mayon-alert-level-raised-to-4-erupti-ce44f36.html